The Custom House Jonathan Mulliken Clock
June 11 @ 6:00 pm

-

8:00 pm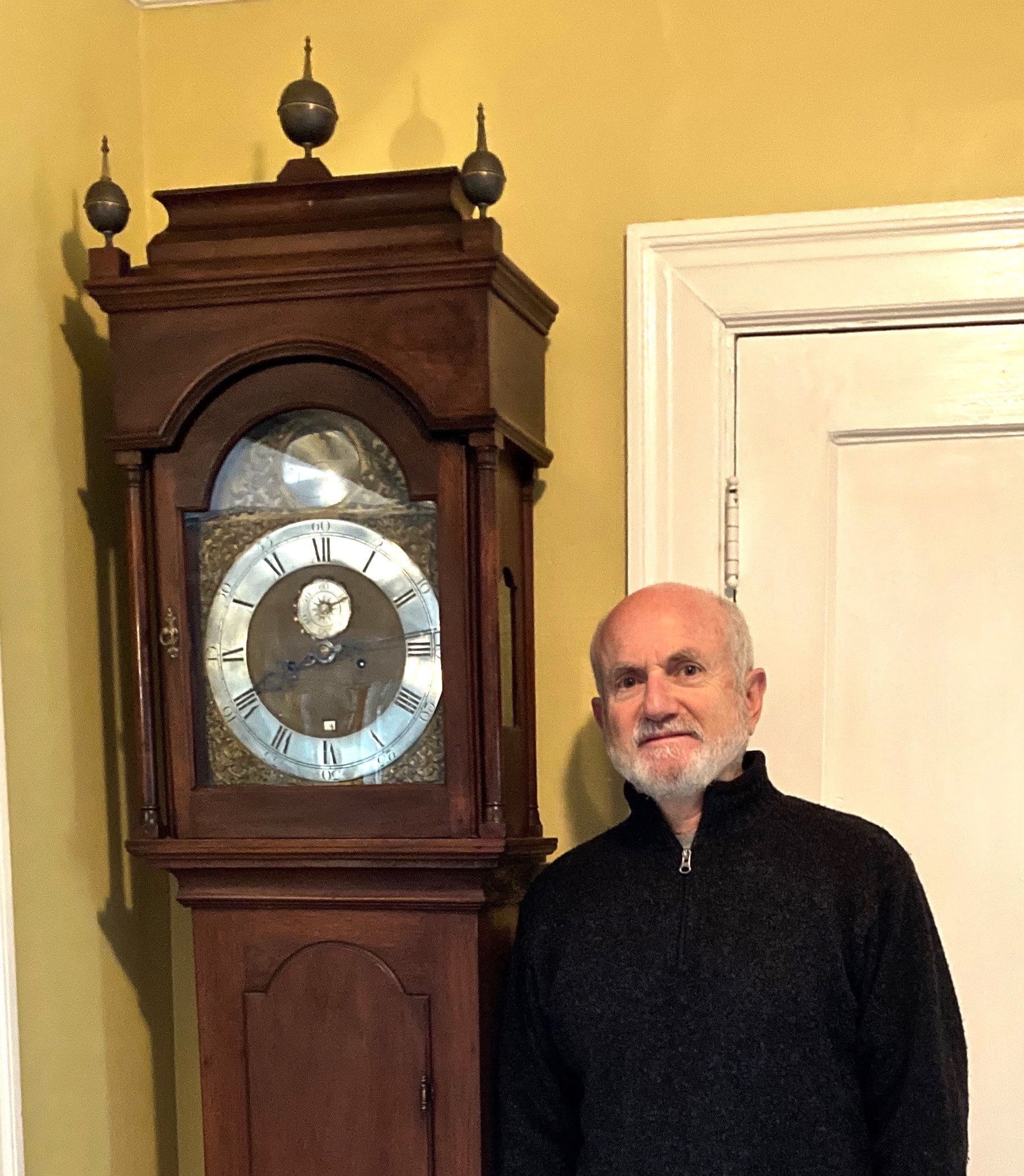 The Custom House Jonathan Mulliken Clock
MEMBERS ONLY
Our in-person First Fridays are back, outdoors and under the tent! Come for socializing at 6:00 with the program beginning at 6:45.
The Custom House Maritime Museum has the honor of owning a rare and important 18th-century tall-case clock made right in Newburyport by clockmaker Jonathan Mulliken (1746-1782).
Join us under the tent live at 6:30 pm on Friday, June 11, 2021, as we welcome Andover clock restorer, collector, and scholar Bob Frishman to the Custom House's monthly First Friday event.
Bob has begun research, with co-author Damon DiMauro of Haverhill, on a comprehensive book about the Massachusetts Mulliken family of clockmakers.  The Museum's clock will be featured in the book to be published by the Concord Museum.
As an in-kind donation, Bob recently has done a complete service of the clock movement as well as appropriately and lightly cleaned the impressive wooden case and silvered-brass dial.  The clock will again stand proudly in the museum, ticking the seconds and boldly announcing on its bell the count of each passing hour.
On the evening of June 11th, Bob will join Museum members for a "First-Friday" presentation about the clock and his work on it.  With detailed notes and high-resolution photographs, he carefully documented the project.  In his richly illustrated lecture, he will show those images and many others relating to the Mullikens and Colonial clockmaking.
Bob observes that in several significant ways this clock movement is well above average in its construction and components.  While the builder of the impressive walnut case is not known, that cabinetmaker clearly was also a skilled craftsman working competently in the methods and styles of the period.
As custodians of this fine clock, the Museum truly has a historical treasure.  This presentation aims to enhance our appreciation of its quality and significance.
Bob Frishman, owner of Bell-Time Clocks, has for forty years been a scholar and practitioner of horology, the science of timekeeping.  He has written more than 100 related articles and reviews and he has lectured on the subject to more than 100 audiences.  He is a Fellow of the National Association of Watch and Clock Collectors (NAWCC), Chairman of the NAWCC Time Symposium Committee and organizer of recent groundbreaking conferences, and a Freeman of the Worshipful Company of Clockmakers, a London guild founded in 1631.   More about him is at www.bell-time.com .