"Come see the tree near the water!"
When these words were exclaimed by a 5-year-old girl to her Father this past weekend, we knew that we had achieved what we had set out to do. The Maritime Tree mission was meant from the start to be  more than a fundraiser. While it was also intended to promote other nonprofit organizations, ultimately we sought to bind our community together in a time where we are often required to be apart. The vibrant Newburyport community of non-profits, businesses, students, and families have come together to make Custom House Maritime Tree a joyous environment in a safe and responsible manner.
We would like to thank all who have made this event so impactful for our community. Everyone who bought and decorated a ring owns a piece of the success of this initiative. We could not have done this without you, or without the other organizations who stepped in to enhance with their contributions this event, and we would like to acknowledge them here.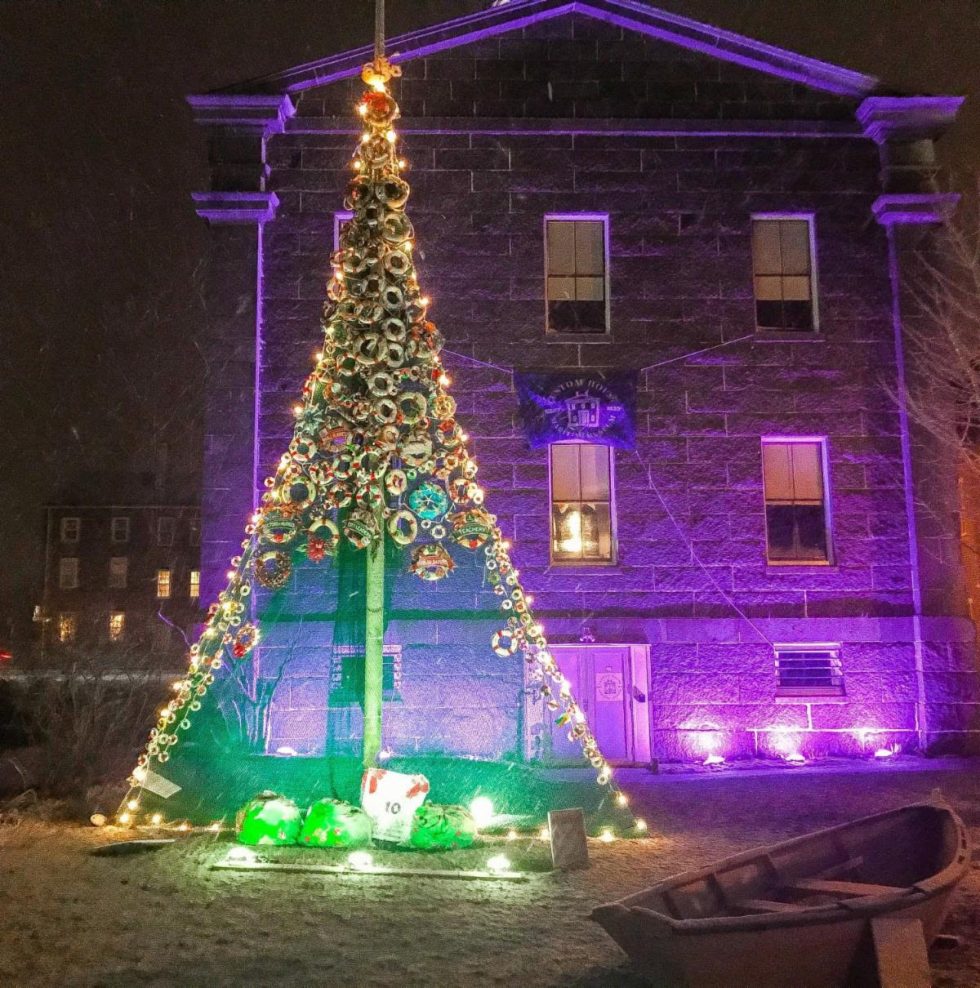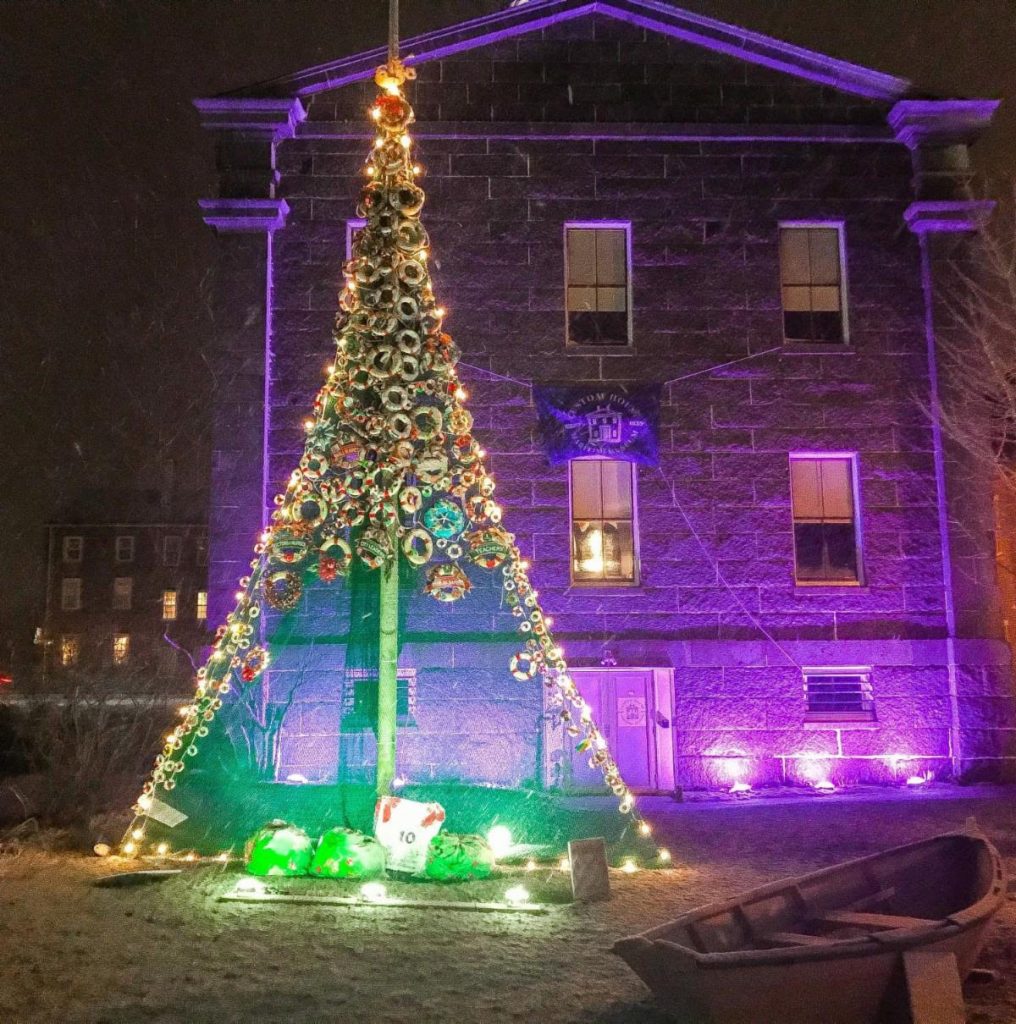 The Maritime Tree topper, Triton with Horn (also known as the Merman), was hand-cut and crafted by the Museum of Old Newbury's Co-President, David Mack. This mythical creature originated on the ancient shores of the Mediterranean Sea. Triton, with his conch shell trumpet and laurel wreath crown, was the messenger of the sea, and the son of Poseidon. The tree topper measures 15″ H x 18 "W and is mounted on a 3′ steel pole. It is currently being auctioned off, and bids will be accepted through end of day, January 1, 2021. To place a bid, go to: www.newburyhistory.org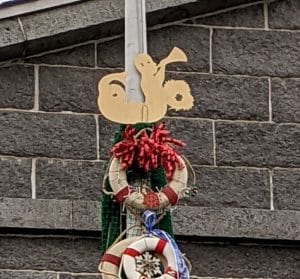 Lowell's Boat Shop and Museum placed a yellow dory at the base of the tree for children of all ages to enjoy. They are currently running a raffle through December 17, 2020 for a chance to win an original painting of the dory Provident, by Ellen Doremus. Tickets are $10. The dory planter at Peach Plum Flower Shop is also available for sale, and check out Lowell's online store through December 21st for great boating inspired, and branded gifts! www.lowellsboatshop.com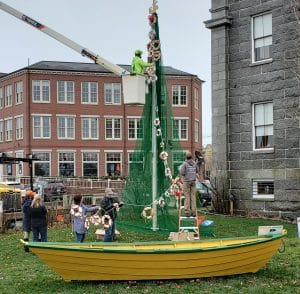 The Actors Studio of Newburyport have placed $10 gift bags for sale at the Custom House Maritime Museum Store (or text 707070 with subject line: goodie bag).  Each bag contains a certificate, good for one of a variety offerings of virtual classes and workshops, a Story Slam T-Shirt, or limited edition 30th Year Anniversary calendar for 2021!  www.newburyportacting.org
If you love the theatre, the Firehouse Center for the Arts is offering "I Believe," a 6-Pack of tickets for just $100, good for anytime, and for any show in the next five years! This includes planned virtual and outdoor performances, as well as live shows when they are safely able to open their doors!  These would make a perfect stocking stuffer or gift for the theatre lover of your family. You can choose to use them individually over time, or all at once as a group for friends and family. www.firehouse.org  
Come see the Newburyport Art Association's installation of two sculptors' work on the back lawn. The display features three works by Madeleine Lord, the welded steel "Angel," "Applause," (below) created with the springs of discarded auditorium chairs, and "Polar Bear," whose subject matter and material (enamel-coated steel, a now "extinct" material), elude to environmental issues.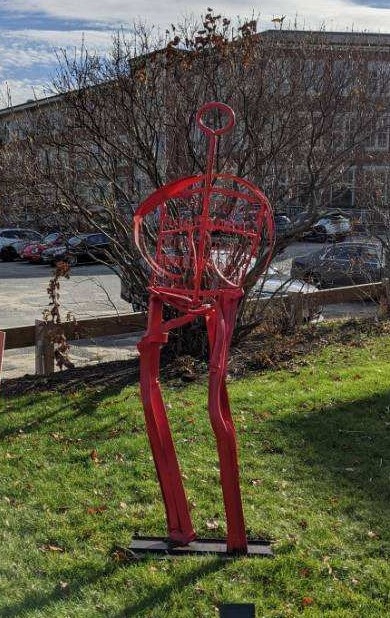 Works by Joseph Gray include "A Moment in Time," created from aluminum mounted on Goshen stone, and "Aloft," in collaboration with artist Asia Scudder, sits on the stone Eagle Bench.
These works are available for purchase. Scan the QR code on the sign nearby for more information, or contact the NAA at: newburyportart.org
The Yankee Homecoming board has placed a food collection bin on the lawn to provide much needed food for local pantries of: The Salvation Army, Pettengill House, the First Parish Church of Newbury Community Food Pantry, and Our Neighbor's Table. When you visit the Maritime Tree please remember to bring along a boxed or canned food item to donate. You can get ideas of the needed items from their website or to make a monetary donation at: yankeehomecoming.com/food-pantry-donations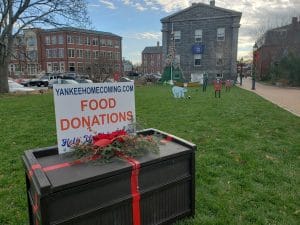 The Newburyport Horticultural Society, established in 1944, is a vibrant, active group of members who all share a common love of gardening, and enjoyment of our natural surroundings. Newburyport enjoys many beautiful gardens due to their work, and this year their design of the Santa House in Brown Square is a delight for people of all ages. Their membership has evolved and grown over the years, but they are always welcoming new members – even in the winter months!  www.newburyporthort.org    
Community Service of Newburyport, Inc. is a service organization whose mission is to improve the quality of life for individuals, families, and children in need in Newburyport, Newbury, and West Newbury by providing economic assistance in a caring environment. The donation of personal care items has been suspended at this time, but you can make a monetary donation at:  www.communityserviceofnewburyport.com/donate.html
Greater Newburyport Ovarian Cancer Awareness (GNOCA) will be celebrating its 10th anniversary in 2021. Please join us to help plan for events such as the Newburyport Lantern Festival during September, National Ovarian Cancer Awareness Month; we welcome new members. Our Helping Hands Meal Program for women in treatment and monthly discussion group continue throughout the year. Donations are gratefully accepted at ocawareness.org.
Please help us FILL THE TREE! The Custom House Maritime Museum is selling life rings through the end of the December at the Museum store or online at: buyalifering.com. The  Museum Store also has new merchandise for holiday gift ideas. You can buy in-person or online at https://customhousemaritimemuseum.org/our-store/. Members receive a 10% discount.  Membership is a great way to preserve and experience our local maritime heritage. Consider giving a gift of membership for your loved ones (or yourself) at: https://customhousemaritimemuseum.org/membership/
The Custom House Maritime Tree will light up nightly until January 6, 2021.
Help us share this fun event by posting your photo with the hashtag  #customhousemaritimetree
When you visit the Custom House Maritime Tree on weekends, come inside and see the Museum!
We hope you enjoy the flower boxes decorated by Jean Berger of Green Jeans Design & Horticultural Services and the welcoming door wreaths, created by Kate Murdock. Thank you both designers.
We would also like to thank the Custom House Maritime Tree sponsors, without whom we would not have been able to bring this wonderful event to the community.
4Seasons Heating & Air Conditioning for donating the hardware, lobster netting and the skills to create the tree.
Finneran & Nicholson, P.C., sponsor of the Bresnahan student rings.
Fusion Blue Productions for sponsorship of the lighting design.
Valley Tree Service, for the lighting installation.
Wingwalker Marketing, for their time, and marketing expertise.
A special thanks to:
The Students of the Bresnahan School, Immaculate Conception and River Valley Charter School for decorating life rings under the guidance of their teachers Pamela Standley Jamison, and Lucinda Cathcart.
The Newburyport DPW for helping us construct the Custom House Maritime Tree.
The Newburyport Daily News for helping us spread the joy.
And to all not specifically mentioned here who bought, decorated, or donated to the Custom House Maritime Tree, we cannot thank you enough for your support. Have wonderful holiday season!