Covid-19 Protocols and Practices as of 12/13/2020: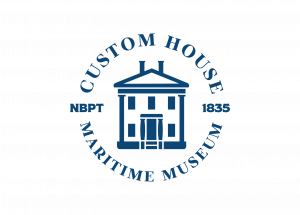 With the recent decision by the Baker-Polito administration to return Massachusetts to Phase 3/Step1 guidelines of operation, the Custom House Maritime Museum would like to take the opportunity to remind our patrons of our current practices in keeping with the newest guidelines and information.
With Covid-19 infections on the rise, admission to the museum will be timed entry at the top of the hour (similar to a historic house tour model), and limited to six people per hour. All visits will be kept to capacity.
Facemasks will be required for everyone inside the museum (meaning worn over both mouth and nose at all times). Sanitizing stations are located upstairs and down, and we will be cleaning common areas and surfaces regularly. As some of our galleries are on the smaller side, we will have signs indicating maximum occupancy outside of each gallery.
Walk-ins will be only be accepted if we have not reached the six-person capacity for the hour, so the CHMM is asking visitors to pre-purchase tickets through our online portal (click here), in order to ensure a place during our normal weekend hours of operation this winter.
Though there is no charge for admission  for Newburyport residents, we are asking that residents pre-register through our ticket page online as well.
Thank you for your continued support, and have a Happy New Year.