Good day, from all of us at the Custom House Maritime Museum!
It's been an amazing journey so far in bringing the first annual Custom House Maritime Tree to life.  Last week we erected the tree on the museum's back lawn, and participating nonprofit organizations began placing their contributions about the property. Amongst else, we have sculptures from artists at the Newburyport Art Association, a tree topper from the Museum of Old Newbury, a colorful dory from Lowell's Boat Shop, and a food donation drop box from Yankee Homecoming (See a full list  of participants below). Our community has come together to make this effort a resounding success, and a genuinely heart-warming holiday event in a time where we desperately need one another's support and company.  Thank you all so much!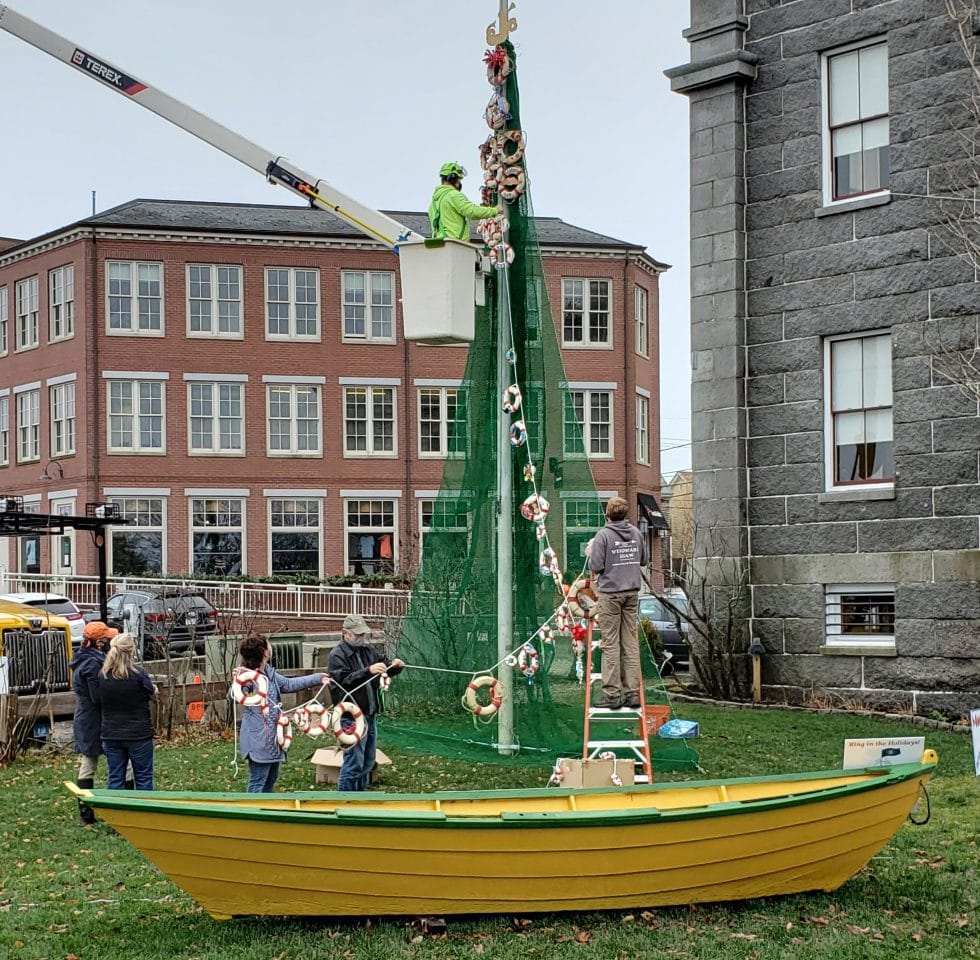 Last Friday we lit the tree live on Facebook, and we were elated to see so many families and individuals come to the site of the museum to witness what we hope will be the first of many such occasions in the coming years. Children piled in the dory, and ran about the tree singing and dancing when the lights came on. It was then that we realized what this means to our community: we are family. All of us.  

Maybe it is because we have spent so long staying away from one another, but witnessing how much fun everyone was having gathered around our little museum yard, filled our hearts in ways we could not anticipate, and we knew then that this was truly something special. We want to maintain this uplifting spirit for the whole season, and bring it back again next year!
But before we plan for that: we still need to fill the tree this year! If you haven't done so already and want to be a part of this wonderful season of unity, consider decorating a ring, coming down to the museum, and hanging it on our tree. There is still plenty of room and we want to see it completely filled before the end of the month.
If you would like to participate, go to: buyalifering.com to get your ring today. Our inventory is limited but we would like to see all the rings decorated!
Thank you all for support, and accept our deepest wishes for a safe and happy holiday season for you and your families.
With warmest regards,
The Board, Leadership, Staff, and Volunteers of the Custom House Maritime Museum
There's still space on the tree, and rings can be purchased while supplies last at: buyalifering.com
Our gratitude to the current sponsors of this community initiative, which include:
*Finneran & Nicholson, P.C. who sponsored small garland life rings to be decorated by students at the Francis T. Bresnahan Elementary School, and the River Valley Charter School as part of an art project.  And the list of participants is growing:
* The Museum of Old Newbury is creating the topper which will be auctioned off
* Lowell's Boat Shop is providing a dingy to explore and makes a great photo opportunity
* The Newburyport Art Association is exploring to have a few sculptures placed along the flower beds on the side lawn
* The Actors Studio of Newburyport will be selling gift grab bags
* The board of Yankee Homecoming is setting out a collection box for food to be distributed to The Salvation Army, Pettengill House and First Parish Church of Newbury Community Food Pantry. They will also have a website to make monetary donations to the Pantry's, which will be split equally between along with Our Neighbor's Table.
* Theatre in the Open (TITO); Merrohawke Nature School; The Newburyport Horticultural Society; Community Service of Newburyport, Inc.; Opportunity Works and Greater Newburyport Ovarian Cancer Awareness are promoting awareness by placing lawn signs near the tree.
*The tree will be lit by Fusion Blue Productions with the help of Valley Tree Service.
*Wing Walker Marketing has donated their time and expertise
*Special thanks to 4Seasons Heating and Air Conditioning for donating hardware and time to figure out how to erect a 30-foot tree using the flagpole as a base.