The program for our initial "First Friday" members' event features the Jonathan Mulliken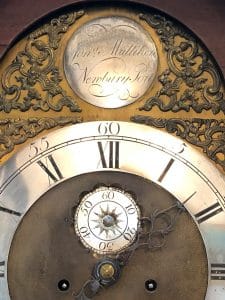 tall-case clock that is one of the gems of our museum's collection.  Made here in Newburyport around the time of our War of Independence, it represents a fine example of American clockmaking from the period.  Ticking mechanical timekeeping originated in Europe more than seven centuries ago, and until the 19th-century Industrial Revolution, clocks and watches were at the height of hand-crafted technological sophistication and complexity.  By the 18th-century when Jonathan worked at his bench, clockmaking was a respected craft that employed highly skilled artisans but also saw the beginnings of mass-production techniques that offered standard designs and parts to its practitioners.  In the 19th-century, New England led the way in establishing clockmaking factories that provided affordable clocks to millions of American homes, and the era of individual ingenious clockmakers was over.   Jonathan created his costly clocks singly and only when specially ordered; much of his time was spent servicing local timepieces.  Likewise, today's clockmakers mostly are repairers who maintain and preserve these iconic machines from our past. – Bob Frishman
Jonathan Mulliken Biography
The Mullikens are believed to have hailed from Glasgow, Scotland. They settled in Bradford, in a section of town where Groveland now lies, along the Merrimack River. They were weavers by trade, but soon began to moonlight as stone carvers and became so proficient at the craft that they are said today to have created their own "Merrimack Valley style." Third-generation brothers Samuel (1720-56) and Nathaniel Mulliken (1722-67) were originally trained as blacksmiths. It remains a mystery how they learned clockmaking—although Yankee ingenuity certainly played a part. The former clockmaker repaired to Newbury (now Newburyport) in 1750 and the latter to Lexington in 1752. Samuel's son Jonathan Mulliken (1746-82), who is the object of this sketch, was only ten at the time of his father's demise. He removed to Lexington probably around 1760 to learn clockmaking from his uncle Nathaniel. Once his apprenticeship came to an end, he might have spent time in Maine, before returning definitively to Newburyport. His first advertisement dates from 1774:
"Jonathan Mulliken, INFORMS his customers and others that he still continues to carry on the Clock and Watch-making business, in all its branches, at his shop near the Town house, in Newbury-Port. Where may be had the best of Chime or Musical Clocks, playing seven different Tunes upon twelve Bells, eight day or common one Clocks, equal to any imported from Great-Britain.—A number of Mahogony Clock Cases, with brass and common furniture. N.B. He has just received from London, an Assortment of Silver-Watches, Watch Chains, Seals and Keys, all which he will Sell at a reasonable rate." (Essex Journal, May 25, 1774, 3)
Jonathan Mulliken was also a skilled engraver — he continued the family tradition in that regard, albeit on brass, copper or steel instead of stone — reproducing most notably Paul Revere's "The Boston Massacre," in a plate of nearly similar size with only slight variation.
As early as 1774 as well, Jonathan seemed to have earned the trust of his fellow citizens, since he was appointed a "clerk of the market," which was a semi-juridical post. He later became part owner of three brigs — Beaver, Lark, and Reprisal — and in 1781 petitioned the Commonwealth of Massachusetts for a letter of marque to outfit the Beaver with "Six Carriage Guns" so it could "Cruise against the Enemies of these United States." There is some apocryphal evidence that he was the clockmaker of the eccentric "Lord" Timothy Dexter, with whom he also had a business relationship. Jonathan Mulliken became prominent enough in town affairs to be elected selectman in 1782, the year of his decease.
Two of Jonathan Mulliken's former Newburyport business partners — merchants Abel Greenleaf (1733-99) and Moses Brown (1742-1827) — were appointed his executors. Just prior to his death in June 1782, Jonathan had purchased land on Green Street from famed privateer Nathaniel Tracy (1751-96) and he was in the process of constructing a large brick residence. The executors decided to sell the property and to use the proceeds for the benefit of the surviving family members. They thus sold it to John Babson (1746-1825), a merchant with shipping interests, who completed the design Jonathan Mulliken had begun. The house changed hands a number of times in the ensuing years. It was eventually purchased in 1917 by antiquarian Wallace Nutting (1861-1941), who restored it and outfitted it as a studio for his artwork. – Damon DiMauro
Babson – Nutting House, corner of Green and Washington Streets, Newburyport