In an effort to improve space and assess the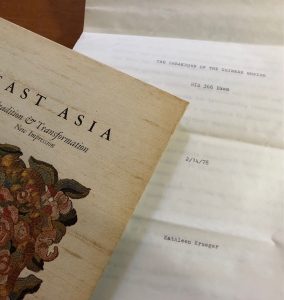 holdings of the Custom House Maritime Museum, we have begun to review the 250 linear feet of books. Books are in every room, mostly historical or relating to Newburyport, maritime, or the Custom House history.
However, after rounding up books from offices, the conference room, and the library we discover some books had never been cataloged nor are they relevant to the core collection.  Some books, used for reference to develop an exhibition or lecture have served their purpose.  Reference Books that are helpful to interpret or catalog the permanent collection are helpful to keep.  No one would have guessed that there were books on identifying migrating birds, the history of skiing at Squaw Mountain, or a children's classic, Stuart Little have been hiding amongst the treasures occupying valuable real estate.
The collections committee reviewed many of these unprocessed and irrelevant books to determine if the Newburyport Archival Center, Newburyport Public Library, or their October book sale was best to give these orphans a new life.  In reviewing any book, we looked for first editions, a connection to Newburyport or maritime history and/or the Custom House. Sometimes an inscription or uncertainty would require further investigation which prompted us to return them to the shelf until more information could be obtained.
Amongst the chatter and shared deliberation on each book, Kathy Stark (former docent and now Museum and Collections Manager) commented on several occasions that the cover of a book entitled East Asia looked very familiar. "I could swear I had a book like this", she said. Best practices in reviewing books are to flip through all pages in the event someone placed a momentum or valuable paper for safekeeping.  So, to our surprise several typed pages for a history exam dated February 14, 1978 fell out.
One of the collections committee members commented that the author got a good grade and that that person was named Kathleen Krueger. Kathy grabbed the paper and exclaimed "That's me! That's my paper from college! I knew I recognized that book!" Remarkable that this book made its way to this location at that moment to be rediscovered.
Objects have lives and stories to tell. Sometimes they are serendipitous, but for many of the books in the CHMM library, they chronicle an important aspect of our maritime history in Newburyport.
We will methodically work our way through collections so we can care for the objects under our stewardship.