Host Your Special Event or Social Gathering at the Custom House Maritime Museum
Our downtown Newburyport location is an ideal setting for: 
small weddings, business meetings, lectures, concerts (great acoustics), and outside events on the lawn.
Our historic, 19th century Greek Revival style granite building overlooking the scenic Merrimack River provides a unique, picturesque backdrop to many of Greater Boston's most memorable special event experiences.
Choosing this historic venue is a meaningful way to introduce guests to a place of national significance as well as to contribute to its preservation. The Custom House is listed on the National Register of Historic Places and is a contributing element to the Market Square Historic District and the Newburyport Historic District.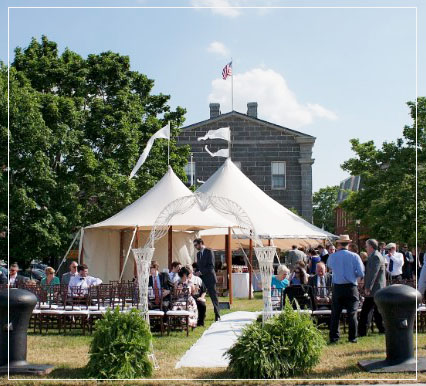 Museum Accommodations and Capacity:
 
Second Floor Main Gallery
Up to 75 cocktail style
Up to 50 theater style
Rates: $1500 for up to 4 hours
Lawn Area Facing the River
Up to 150+
Easily fits a 32′ x 70′ tent
Comfortably fits a 32′ x 90′ tent
$3000 for up to 5 hours
Interested in using our venue? Drop us a line.